Artist strays into mural-making to paint cat on Hope Street in Greenfield
By JULIAN MENDOZA, Greenfield Recorder Staff Writer Published. 9/6/21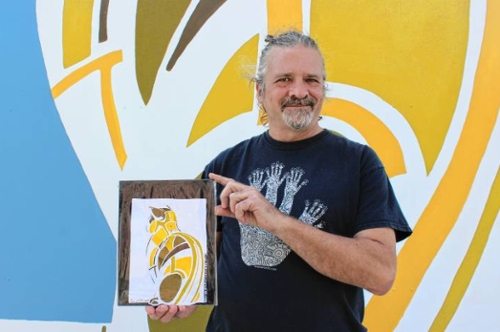 GREENFIELD — Fine artist and long-time Greenfield resident David Longey finished painting his first-ever mural at 60 Hope St. last week.
"Miss Bea by the Window," a mural that abstractly depicts a window-gazing cat that used to live in Longey's house, was completed over the course of around three days.
The mural was completed Aug. 28 as part of the Hidden Canvas Mural Project, a new initiative to decorate the streets of Greenfield with public art. It is the first mural to be completed in tandem with Hidden Canvas aside from Hope Street's "The Inquisitive Crow" series by Whitney Robbins,
Longey's mural debut looks to help begin a movement to make the city more vibrant.
Gabe Zaccheo, founder and organizer of the Hidden Canvas Mural Project, said that his family has had Longley's art in their house since he was a child. When Zaccheo started this project, Longey's art immediately came to mind.
"We knew that we wanted a work of his to be part of the project," Zaccheo said.
Longey said he didn't have to think for long before accepting the job after being asked.
"I was very proud and I jumped at the opportunity to do it right away," Longey said.
Longey, who has lived in Greenfield with his family since 2002, has been making art all his life, but had never had his art publicly displayed in such a way before.
"This is actually the first piece of public art I've spent up in town," Longey said. "I've lived here 18 years."
Despite being a newcomer to mural-making, Longey took to the project with a determined vision that matched up with Zaccheo's: to forgo heavy themes and simply paint a cat.
"It's just a painting of a cat," Longey said. "Some of my other work is more visionary … having the animal imagery around town is good."
Zaccheo pointed out that while light-heartedness was a driving force behind deciding to adapt one of Longey's cat paintings into a mural, some of the significance lay within Hope Street's background. He'd observed that Hope Street has historically been home to many stray cats.
"I thought it would be a great representation of the street and it would be great to bring something everyone loves for the mural," Zaccheo said.
Zaccheo assisted in the process by preparing the wall's painting surface and by serving as the project's general organizer. He said Sherwin-Williams donated paint and Home Depot donated siding, screws and nails.
Zaccheo said that with the completion of Longey's mural, Hidden Canvas is still just getting started. He said that two more murals are in the works for the fall in currently undisclosed locations. His hopes are to eventually develop a "mural walk" that art lovers can use as a colorful way to explore Greenfield. Once these goals are accomplished, Zaccheo said that Hidden Canvas might look to expand further geographically.
"We're not opposed to moving out of Greenfield and focusing our efforts on the greater Franklin County," he said.
As for Longey, he said mural-making was a positive experience that he would gladly reprise a role in going forward.
"I'd jump at any invitation to do some more," Longey said.
Reach Julian Mendoza at 413-772-0261, ext. 261 or jmendoza@recorder.com.
Read the article on the Recorder site https://www.recorder.com/Greenfield-Miss-Bea-Mural-42327473
Posted: to General News on Wed, Sep 8, 2021
Updated: Wed, Sep 8, 2021